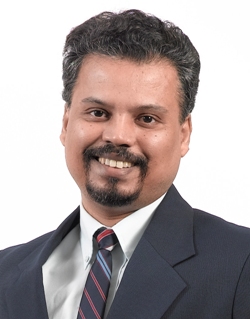 Speaker: Anamitra Makur
Associate Professor, School of Electrical&Electronic Engineering
Nanyang Technological University
---
Bio: Anamitra Makur received the B. Tech degree in Electronics and Electrical Communication Engineering from the Indian Institute of Technology, Kharagpur, India in 1985 and the M.S. and PhD degrees in Electrical Engineering from California Institute of Technology, USA in 1986 and 1990 respectively. He was a professor at Dept of ECE, IISc Bangalore, from 1990-2002. He has been working as associate professor, EEE, Nanyang Technological University, Singapore, from 2002.
Abstract: i) Introduction: We begin by introducing sparse signals, that is, signals having mostly zero values and a few non-zero values. We extend explicitly sparse signals to approximately sparse signals (mostly insignificant values and a few large values) and to implicitly sparse signals (sparse in some basis). We provide real examples of such signals. We compare CS with conventional sampling, differentiating between local and global measurements. We illustrate with examples why recovery from CS measurements is an ill-conditioned problem in general with possibly many solutions, and how sparsity helps converge to a unique solution. Then we formally introduce compressed sensing measurement and recovery for different cases such as explicitly/approximately/implicitly sparse signals. We use examples to illustrate recovery using l0 minimization, and state and prove the recovery theorem. We show the difficulty in l0 minimization, which directly measures the sparsity of a signal. We then show how l1 minimization is a good compromise. We graphically illustrate how lp minimization for p ≤ 1 is different from l2 minimization.
ii) Analysis: The foundation of CS lies in a series of beautiful theoretical results. Contrary to popular belief, these results are not difficult to follow. In this part of the lecture, we present a step-by-step, simple-to-follow proof of the recovery theorem for l1 minimization. We distinguish between non-uniform and uniform recovery result. We begin by associating the tail probabilities of singular values of the sub-matrix of the measurement matrix to RIP (restricted isometry property) constant. We then find the required number of measurements to make the RIP constant small enough. A small RIP constant leads to null space property. To end, null space property implies recovery. Several examples are used throughout the analysis for lucidity.
iii) Measurement Matrices: CS provides many choices of measurement matrices. We look at desirable properties of measurement matrices (RIP and mutual coherence). We introduce examples of random measurement matrices (Gaussian and Bernoulli), structured random matrices (Toeplitz and circulant), structured deterministic matrices (partial Fourier), and deterministic measurement matrices. We discuss combining measurement matrices with basis for implicitly sparse signals.
iv) Reconstruction Algorithms: CS would not have been exciting to engineers without efficient reconstruction algorithms. These algorithms belong to one of 4 classes: combinatorial algorithms, non-convex minimization algorithms, convex relaxation algorithms, and greedy pursuit algorithms. We briefly mention many algorithms under this class, and discuss in detail (including illustrative examples) three important reconstruction algorithms: basis pursuit (BP) under convex relaxation since it typically performs the best; orthogonal matching pursuit (OMP) under greedy pursuit since it typically is fast; and complex relaxation message passing (CAMP) since it is attractive for very large scale applications.
v) Applications: CS has numerous applications in signal processing. We consider some general processing tasks such as compression, denoising, and recognition/classification, and show how CS finds application for each of these areas. Illustrative results are also presented.
Link to the slides