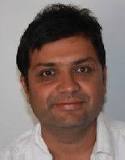 Suhas N. Diggavi received the B. Tech. degree in electrical engineering from the Indian Institute of Technology, Delhi, India, and the Ph.D. degree in electrical engineering from Stanford University, Stanford, CA, in 1998. After completing his Ph.D., he was a Principal Member Technical Staff in the Information Sciences Center, AT&T Shannon Laboratories, Florham Park, NJ. After that he was on the faculty of the School of Computer and Communication Sciences, EPFL, where he directed the Laboratory for Information and Communication Systems (LICOS). He is currently a Professor, in the Department of Electrical Engineering, at the University of California, Los Angeles, where he directs the Information Theory and Systems laboratory.
His research interests include information theory and its applications to several areas including wireless networks, cyber-physical systems, distributed computation and learning, security and privacy, genomics, data compression; more information can be found at http://licos.ee.ucla.edu. He has received several recognitions for his research including the 2013 IEEE Information Theory Society & Communications Society Joint Paper Award, the 2013 ACM International Symposium on Mobile Ad Hoc Networking and Computing (MobiHoc) best paper award, the 2006 IEEE Donald Fink prize paper award and the 2019 Google Faculty Research Award. He served as a Distinguished Lecturer and also currently serves on board of governors for the IEEE Information theory society. He is a Fellow of the IEEE.
He has been an associate editor for IEEE Transactions on Information Theory, ACM/IEEE Transactions on Networking, IEEE Communication Letters, a guest editor for IEEE Selected Topics in Signal Processing and in the program committees of several IEEE conferences. He has also helped organize IEEE and ACM conferences including serving as the Technical Program Co-Chair for 2012 IEEE Information Theory Workshop (ITW), the Technical Program Co-Chair for the 2015 IEEE International Symposium on Information Theory (ISIT) and General co-chair for Mobihoc 2018. He has 8 issued patents.
Abstract: As machine learning gets deployed over edge (wireless) devices (in contrast to datacenter applications), the problem of building learning models with communication-efficient training with local (heterogeneous) data becomes more important. These applications motivate learning when data is collected/available locally, but devices collectively help build a model through wireless links with significant communication rate (bandwidth) constraints. In this talk we review some of our recent work on compression of gradients for distributed optimization using aggressive sparsification with quantization and local computation along with error compensation (by keeping track of the difference between the true and compressed gradients). We begin with a distributed optimization framework, by proposing and analyzing Qsparse-local-SGD, a new gradient compression scheme, for both non-convex and convex objective functions. We demonstrate that Qsparse-local-SGD converges at the same rate as vanilla distributed SGD for many important classes of sparsifiers and quantizers. We extend these ideas to the decentralized setting where we design and analyze SQuARM-SGD, which further improves compression by including event-triggered communication and also incorporates Nesterov's momentum into the optimization framework. We also provide convergence guarantees of SQuARM-SGD for strongly-convex and non-convex smooth objectives. Here again we show that SQuARM-SGD matching the convergence rate of vanilla SGD, effectively demonstrating compression without much degradation in convergence rates. We use Qsparse-local-SGD and SQuARM-SGD to train ResNet-50 on ImageNet and show that it results in significant savings over the state-of-the-art, in the number of bits transmitted to reach target accuracy. without sacrificing much on the accuracy and convergence rate.